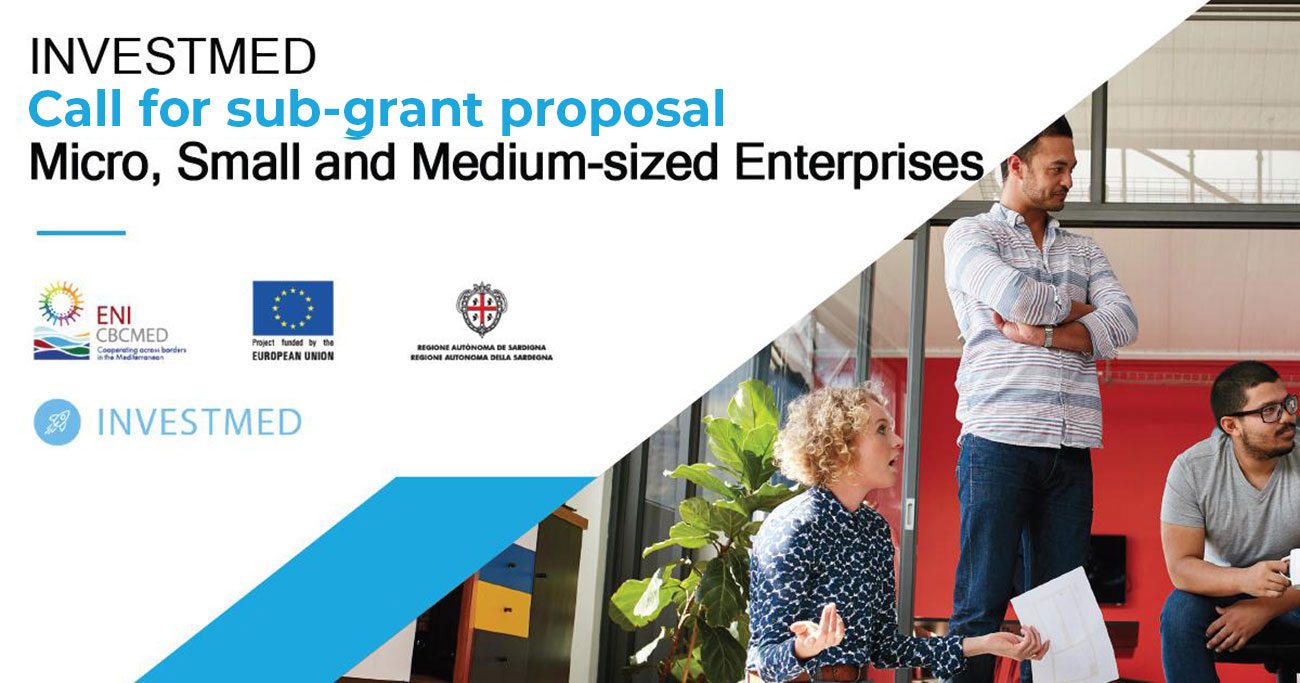 Deadline for submission of applications:  20 March 2022
The EU-funded INVESTMED project is offering grants to support small businesses in the Southern Mediterranean. 
The project aims to support Micro, Small and Medium-Sized Enterprises (MSMEs) to improve their competitiveness, sustainability, capacity to innovate, and ability to internationalise, in order to foster sustainable growth and economic development in the region. Special emphasis is given to organisations with young people and/or women in managerial positions. 
Applications are now open for start-ups and MSMEs based in Egypt, Lebanon and Tunisia, which operate in the following sectors:
Green economy

– in which the economic activities, infrastructures and assets of the sector enable the reduction of carbon emissions and pollution, improve energy and resource efficiency, and avoid the loss of biodiversity and ecosystem services.

Blue economy

– related to oceans, seas, lakes, rivers and coasts to promote economic growth, social inclusion and the preservation or improvement of livelihoods, while avoiding environmental and ecosystem degradation. 

Creative and cultural industries

– enterprises engaged in the production or reproduction, promotion, distribution or marketing of goods, services and activities with content derived from cultural, artistic or heritage origins.
Sub-grants of up to €10,000 per beneficiary (or up to €20,000 per cultural and creative project) will be awarded to help businesses develop and implement new strategies, products, services, or internationalization plans. 
Sub-grants will take the form of a reimbursement of costs.
For any further information please contact: investmed@iemed.org
Applications
Before submitting your application, please consult the supporting documents for the relevant country below.
To apply, please send a completed application form together with the supporting documents by e-mail to investmed@iemed.org  
Deadlines
Deadline for requesting any clarifications from the project partners: 15 March 2022
Deadline for submission of applications:  20 March 2022
Eligibility Criteria
In order to receive funding from INVESTMED, you must:
Lead Applicant
Be a legal entity

Be a specific type of organization (please consult the specific details in the Document Annex 1 Guidelines for sub-grant applicants)
Be based in one of the following countries: Egypt, Lebanon and Tunisia.

 
In the case of Egypt, only applicants based in Marsa Matruh, Al-Iskandanyah, Al Buhayrah, Kafr ash Shaykh, Ad Daqahliyah, Dumyat, Ash Sharquiyah, Al Isma'iliyah and Bur Sa'id are eligible.
In the case of Tunisia, only applicants based in Medenine, Gabes, Sfax, Mahdia, Monastir, Sousse, Nabeul, Ben Arous, Tunis, Ariana, Bizerte, Beja, Jandouba are eligible.
Include a co-financing of 10% of the cost of the action in your budget proposal
Co-applicant(s): applying only to Lot [4] CCI projects.
Co-applicants participate in designing and implementing the action, and the costs they incur are eligible in the same way as those incurred by the lead applicant.
Links to:
Brochures
Supporting Documents
The INVESTMED project is co-funded by the European Union under the ENI CBC Mediterranean Sea Basin Programme 2014-2020. It has a duration of 30 months, with a total budget of 3.8 Million euro, of which 3.4 Million euro are funded by the European Union (90%).