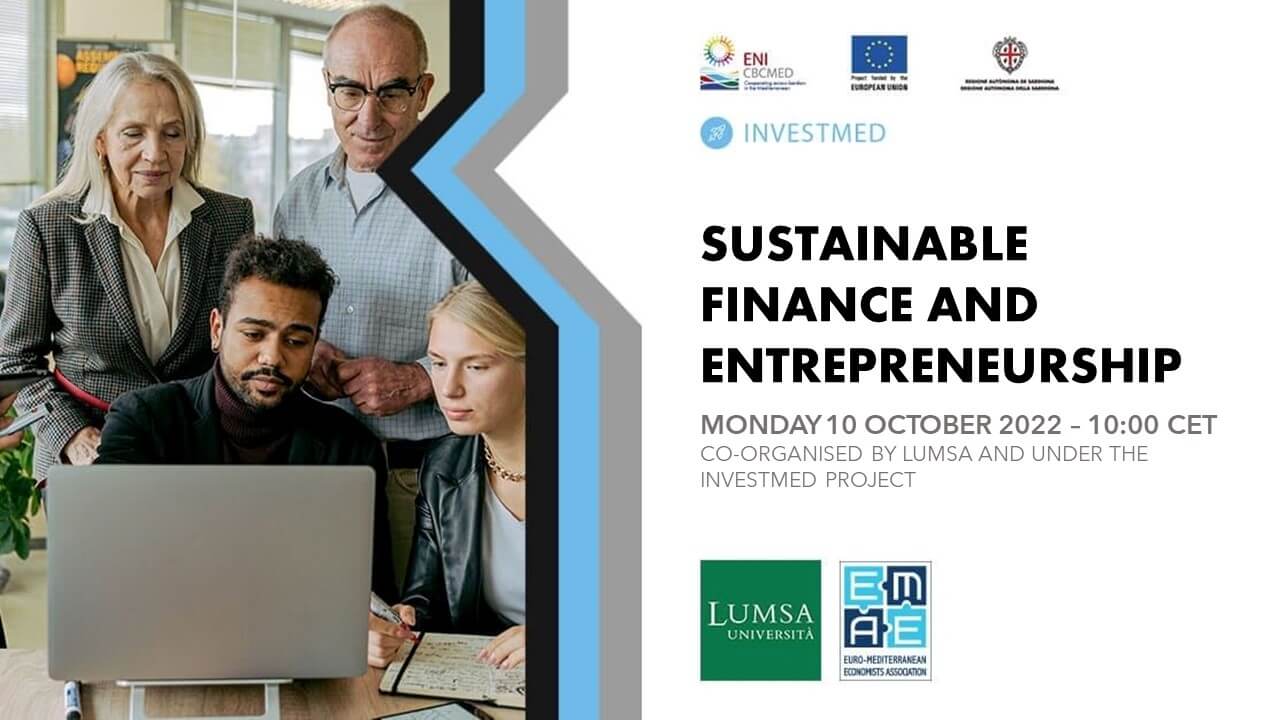 The 10th and last INVESTMED seminar in the 12-month INVESTMED training programme will take place on Monday 10 October 2022, at 10:00 AM CET. The seminar is co-organised by the Euro-Mediterranean Economists Association (EMEA), and LUMSA University, project partners of the EU-funded INVESTMED project.
The seminar will be dedicated to sustainable finance with the participation of experts and researchers in venture investment, application of ESG indicators, and emerging financing systems. The objective of the session will be to discuss the opportunities for entrepreneurs, start-ups, and MSMEs in the Mediterranean committed to sustainability.
One of the challenges faced by companies and entrepreneurs is the alignment of their products and business models with environmental policies and regulations, not only for legal compliance but also to find the distinguishing factor that gives them a clear competitive advantage. Nowadays, there are several initiatives that organisations and companies seek to support their competitive proposition based on technological and social innovation. The Mediterranean opens a range of business opportunities given its geographical location which acts as a strategic node in emergent economic sectors such as the blue economy, bioeconomy, and sustainable tourism.
The INVESTMED webinars form part of the project's Sustainable Business Management Programme, which is open to current and prospective entrepreneurs from Egypt, Tunisia and Lebanon working in the green economy, blue economy, and cultural and creative sectors. The seminars aim to complement the training content by bringing together experts in these fields from around the Euro-Mediterranean region.
The INVESTMED project is co-funded by the European Union under the ENI CBC Mediterranean Sea Basin Programme 2014-2020. INVESTMED has a duration of 30 months, with a total budget of 3.8 million euros, of which 3.4 million euros are funded by the European Union (90%). It involves 9 partners from Tunisia, Spain, Lebanon, Greece, Egypt, and Italy:
Union of Mediterranean Confederations of Enterprises, BUSINESSMED (TU)
Euro-Mediterranean Economists Association, EMEA (ES)
European Institute of the Mediterranean, IEMed (ES)
Beyond Group / Irada Group S.A.L, BRD (LE)
Institute of Entrepreneurship Development, IED (GR)
Libera Università Maria SS. Assunta, LUMSA (IT)
Rumundu Social Promotion Association, RUMUNDU (IT)
Confederation of Egyptian European Business Associations, CEEBA (EG)
Spanish Chamber of Commerce, CCE (ES)