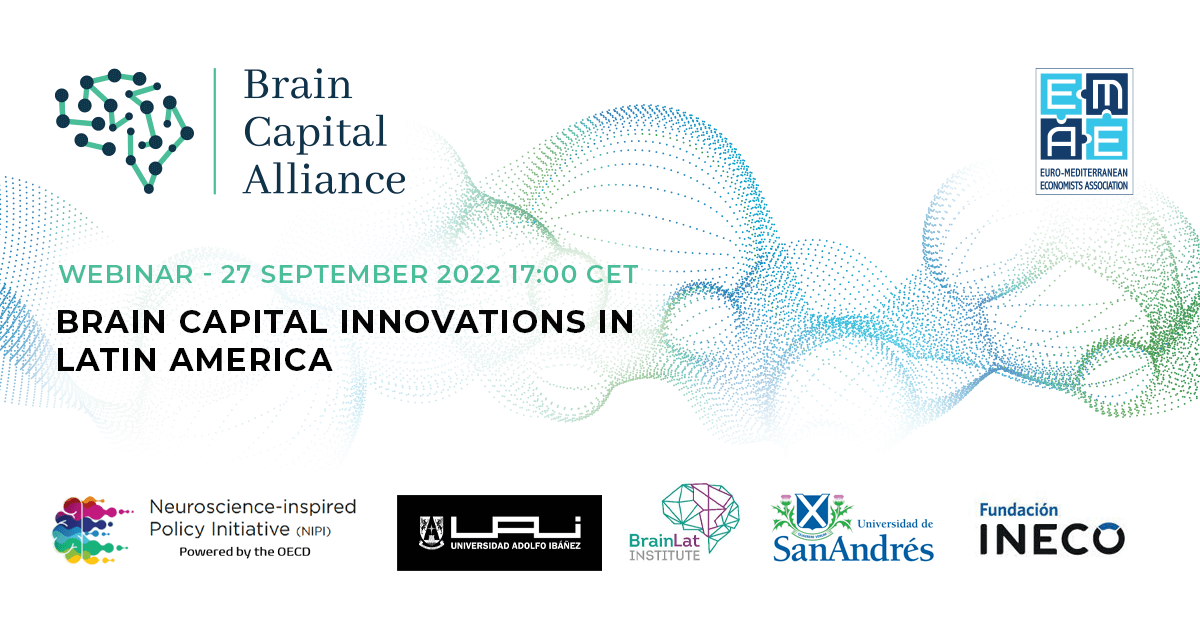 Brain capital is a productive and complex capital stock that accumulates over the lifecycle. It is a multi dimensional set of factors varying from physical to socio-cultural ones, enabling the brain to remain healthy, develop, and avoid deterioration. The policies guiding the development of both the natural and socio-cultural environments are important drivers of brain capital since they could either favour or impede its development. The brain capital concept aims at providing a better understanding of the economic value that can be derived through identifying and unlocking latent human potential.
Argentina is a world leader in the advancement of brain capital into policy and workforce development, and there are many developments in Latin America. The Facundo Manes MD campaign in Argentina is strongly aligned with brain capital principles e.g., "empathy" is a major platform. Recently, the Latin American Brain Health Institute (BrainLat) and the Universidad Adolfo Ibanez and the Universidad de San Andres hosted a short course on brain capital in public policy in Buenos Aires sponsored by the InterAmerican Developmental Bank and certified by the Ministry of Health.
The brain capital framework has recently been cited in public and private reports, including from the United Nations Development Programme's Human Development Report, the World Health Organisation's Brain Health Position Statement, and new analyses from PwC and Lundbeck.
This webinar is co-organised by EMEA and the Brain Capital Alliance in collaboration with OECD Neuroscience-inspired Policy Initiative, Global Brain Health Institute, Latin American Brain Health Institute and INECO.
AGENDA
Moderator: Prof. Rym Ayadi, President, Euro-Mediterranean Economists Association (EMEA) and Co-Lead of the Brain Capital Alliance
Speakers:
Facundo Manes MD, Founder, Chairman and CEO of INECO and Member of the Chamber of Deputies of Argentina
Carlos Javier Regazonni MD PhD, former CEO of National Health Care System for Retirees of Argentina (PAMI), currently Director of the Committee on Global Health and Human Security of the Council on Foreign Relations of Argentina (CARI)
Agustin Ibanez PhD, Director of the Latin American Brain Health Institute at Universidad Adolfo Ibanez, Adjunct Professor at Universidad de San Andres, Senior Fellow with the Global Brain Health Institute, Visiting Professor at Trinity College Dublin
William Hynes DPhil, Head of New Approaches to Economic Challenges and Co-Lead of the Neuroscience-inspired Policy Initiative at OECD
Andrew Nevin, Partner & Chief Economist, PwC Nigeria
The webinar is hosted by EMEA & BCA and will take place on Tuesday 27 September at 17:00 CET on Zoom.