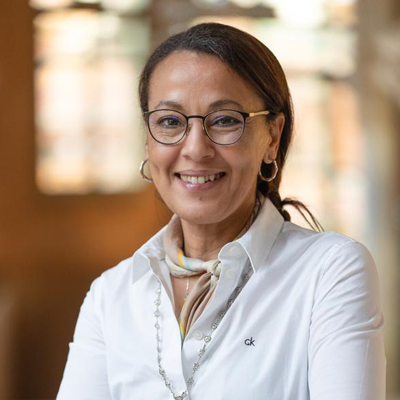 Senior Research Fellow
Najat El Mekkaoui is a senior economist and professor in economics at the University Paris Dauphine. Her research focuses on the economics of aging, demographic changes in developing countries and social security programs. She was distinguished visiting research fellow at Oxford University (Smith school of Enterprise and the Environment) and research fellow at the Economic Research Forum (ERF). She published and took part in the publication of several works, chapters or papers in her research fields.
In addition to teaching and research, she has been involved with the World Bank, the ESCWA, the Moroccan (CNDH, CDG) and the French institutions (Ministry of Social Affairs and Employment Center) in studies about households savings, pension reforms and the expansion of social protection programs. She was engaged with the National Council of Human Rights (Morocco) to study the elderly situation in Morocco, to work closely with the institutions dedicated to old-age people (public, private and Ministry) to promote and to protect the rights of older persons.
She is currently board member at the Moroccan Central bank and Chairman of the Social Funds Steering Committee, board member at the CDG Prévoyance and at the Scientific council at the Moroccan Capital Market Authority. In EMEA, she works on social and financial inclusion, social protection, social business and ageing.