Amidst the disrupting circumstances resulting from the global pandemic COVID-19, this study provides a diagnosis of the contagion between February and April 2020 in the Mediterranean and Africa. It assesses the level of preparedness of national healthcare systems and examines the policy responses for containing the contagion and for mitigating the socio-economic consequences of the health crisis in several countries including: Algeria, Egypt, Ghana, Italy, Jordan, Lebanon, Morocco, Palestine, Spain, and Tunisia. The study proposes a novel three-pillar framework to assess the policy responses. It concludes with a preliminary assessment for the surveyed countries and provides recommendations for the way forward. The study, which is part of the EMEA policy research initiative on COVID-19 launched on March 18th 2020, is led and coordinated by Prof. Rym Ayadi, President of EMEA and Director of EMNES. It is a result of collaborative research and contributions from EMNES researchers from Algeria, Egypt, Jordan, Lebanon, Morocco, Palestine and Tunisia; and of EMEA researchers, fellows and experts. Acknowledgement of reviews by members of EMEA Executive Board: Cinzia Alcidi and Carlo Sessa. On April 15th 2020, EMEA launched its online knowledge and research collaborative open access platform (EMEA collaborative platform), to facilitate collaborative research in times where social distancing has been one of the critical containment policies in all the countries affected by COVID-19 :
https://research.euromed-economists.org/covid-19/
. Since events surrounding COVID-19 are unfolding at the time of writing, EMEA-EMNES research teams continue updating policy developments and the economic and social consequences of the pandemic throughout the Mediterranean and Africa. The updates are posted regularly on the EMEA collaborative platform.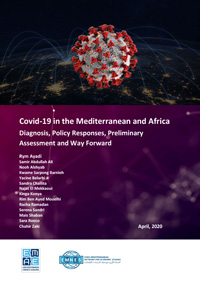 Co-authors/Contributors
RESEARCH FIELDS
TYPE OF PUBLICATION