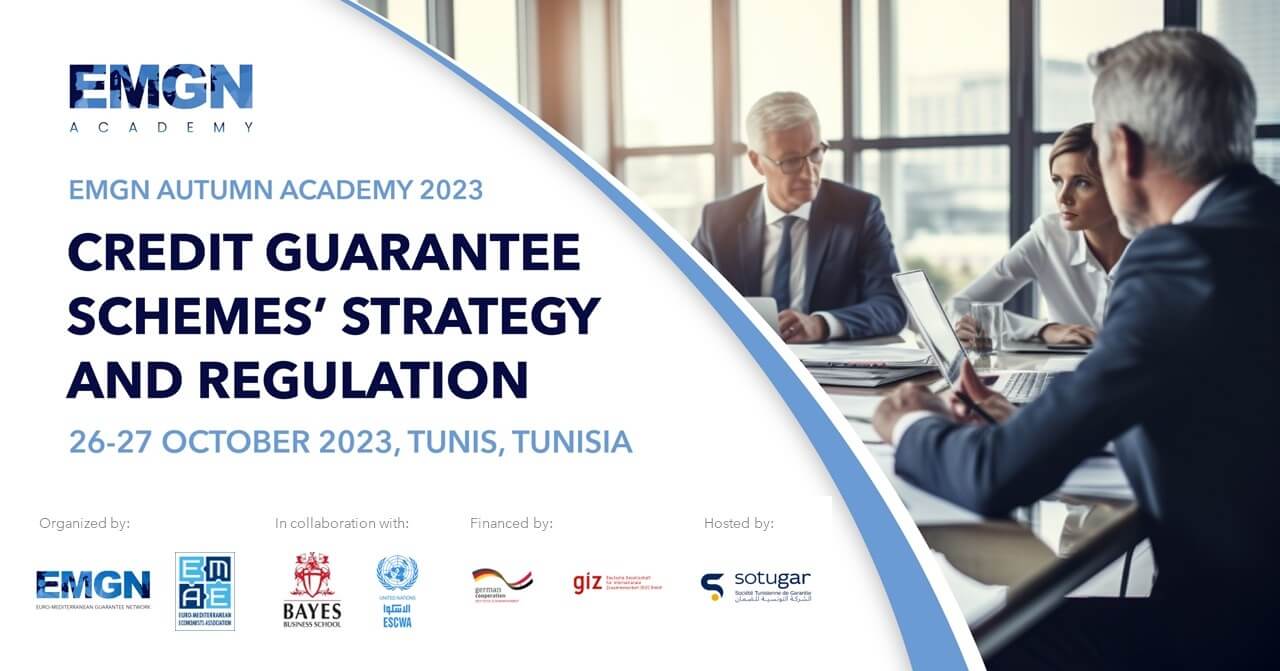 The Autumn Academy 2023 centred around two subjects: Regulation & Greening Strategy. The academy is designed to enhance knowledge and skills and share best practices of CGS regulation and supervision. It will focus on solvency and capital requirements, financial reporting, and anti-money laundering. Moreover, credit guarantee schemes can bolster MSMEs in climate action through green finance guarantees, capacity-building assistance, and others. The academy strives to promote best practices for integrating climate action into Credit Guarantee Schemes' strategies and operations in the MENA region.
The Autumn Academy of 2023 is organised by the Euro-Mediterranean Guarantee Network (EMGN), led by the Euro-Mediterranean Economists Association (EMEA), in collaboration with Center for Banking Research of Bayes Business School, and the United Nations Economic and Social Commission for Western Asia (ESCWA). The event is hosted by Sotugar, Credit Guarantee Company in Tunisia and member of the EMGN Network.  The EMGN Academies are carried out as part of a project financed by the German Agency for International Cooperation (GIZ) commissioned by the Government of the Federal Republic of Germany, namely: "Innovation Fund Jobs through Trade and Investment in the Southern Neighbourhood of the EU".
The Academy will combine contributions from various experts, along with interactive sessions tailored for adult education, facilitated by a professional facilitator who will lead the group throughout the process.