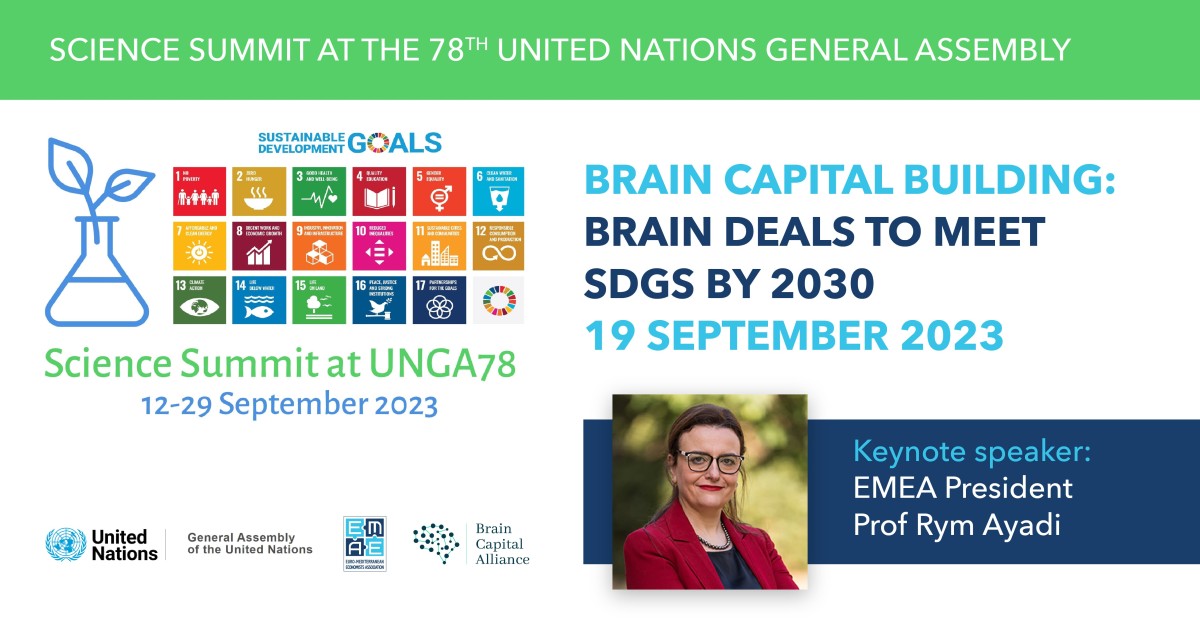 The Conference "Brain Capital Building: Brain Deals to Meet SDGs by 2030" takes place on 19 September 2023 as part of the Science Summit of the 78th United Nations General Assembly (UNGA78) in New York. The Conference will present the novel concept of 'Brain Capital' which puts a premium on cognitive skills and abilities in accomplishing socio-economic objectives. Building Brain Capital is fundamental for meeting modern societal challenges and driving innovation. The concept has been elaborated by the Neuroscience-inspired Policy Initiative launched by the OECD. Following its success, the Brain Capital Alliance has now been formed to continue this work toward impact. The Euro-Mediterranean Economists Association – EMEA is a promoter of the Brain Capital Alliance.
EMEA participation at the conference:
Prof. Rym Ayadi, President of EMEA, CEPS Senior Advisor, Chair of the Banking Stakeholders Group of the European Banking Authority and co-founder of the Brain Capital Alliance, will deliver a keynote speech on the Brain Capital Dashboard. The EMEA is a promoter of the Brain Capital Alliance.
Harris Eyre, Lead, Brain Capital Alliance, Fellow, Rice University's Baker Institute for Public Policy, EMEA Advisor, and Senior Fellow, Meadows Mental Health Policy Institute, will launch the Brain Capital Industrial Innovation Strategy.
Pawel Swieboda, Member of the Steering Committee of the Brain Capital Alliance and  EMEA Advisor, former Director General of the Human Brain Project and CEO of EBRAINS AISBL, will be one of the moderators of the Conference
William Hynes, D.Phil., is the coordinator of the New Approaches to Economic Challenges unit within the Office of the Chief Economist of the OECD. He also holds adjunct positions with the Johns Hopkins School of Advanced International Studies, University College London, and the Santa Fe Institute.
Brain Deals – large-scale and brain science-inspired policy strategies can harness advanced AI and boost the implementation of several UN Sustainable Development Goals – shared blueprint for peace and prosperity for people and the planet, now and in the future – at the national and global levels. The model of the Brain Deal was recently noted in a Rice University's Baker Institute for Public Policy Brief here. The event will focus on how Brain Deals can support implementation by 2030.
To attend the Conference virtually please register at the event website
About the Science Summit UNGA78
The role and contribution of science to attaining the United Nations Sustainable Development Goals (SDGs) will be the central theme of the Summit. The objective is to develop and launch science collaborations to demonstrate global science mechanisms and activities to support the attainment of the UN SDGs, Agenda 2030 and Local2030. The meeting will also prepare input for the United Nations Summit of the Future, which will take place during UNGA79 beginning on 12 September 2024.