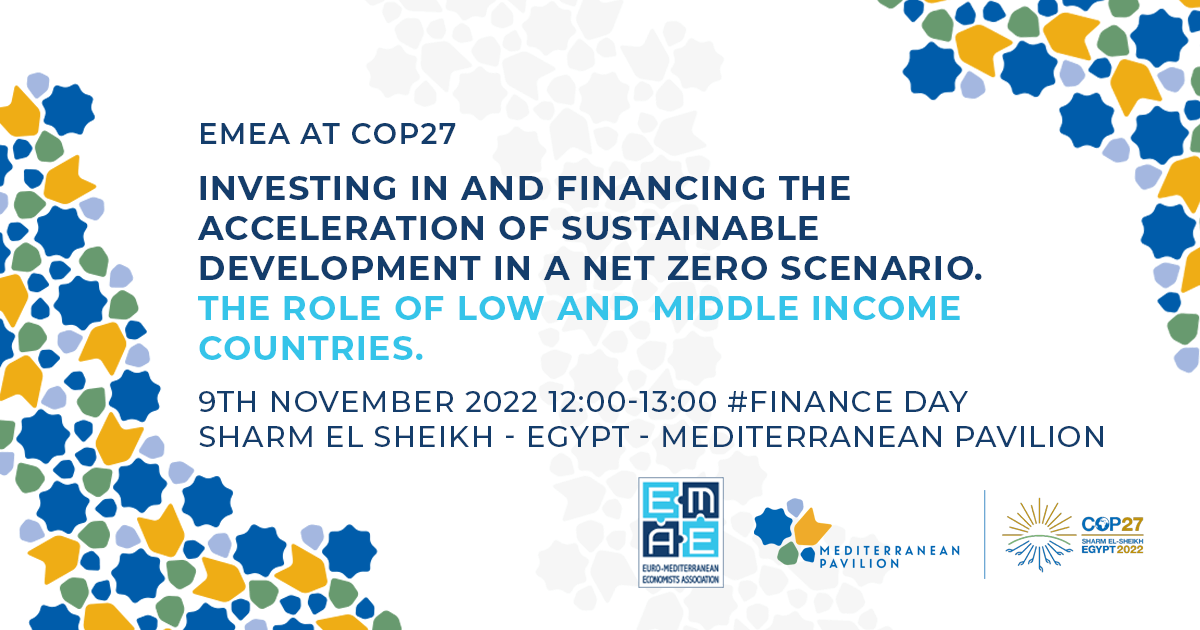 This EMEA led side event will present the latest investment and financing-based initiatives and regulatory actions to accelerate the sustainable transition and net zero scenario including the European Banking Authority, the European Investment Bank and the Liquidity and Sustainability Facility. It will delve into the public private partnership to accelerate the green transition in Europe, the Mediterranean, and Africa and propose innovative financing solutions towards an accelerated transition.
 In view of the EU's commitment to climate neutrality by 2050, the heightened challenges of climate change in the Mediterranean and Africa, the European Green Deal and its external dimension in line with the Paris Agreement objectives.
The event, including two panels, will discuss means to scale up investment and financing to deliver on the climate ambition. The discussion will delve into the important role in supporting the financial sector towards the objectives of transitioning to a more sustainable economy and mitigating risks stemming from climate change and broader environmental, social and governance (ESG) factors. Discussions will include private public partnerships in financing the acceleration of sustainable transition and the role of relevant stakeholders. The event will also shed light on the recommendations to the G20 on accelerating the financing of sustainable transition, the UNECA proposal to finance sustainable development in Low and Middle Income Countries and the Banking Stakeholders Statement on for the European Banking Authority.
Agenda
Moderator: Prof. Rym Ayadi, President and Founder EMEA
Keynote speakers:
H.E Philip Davis, Prime Minister of the Bahamas
H.E. Hala H. Elsaid, Minister of Planning & Economic Development, Arab Republic of Egypt
Dr Vera Songwe, Chair of the Liquidity and Sustainability Facility and co-chair of the High Level Panel on Climate Finance
Panellists:
Dr Emmanuel Pinto Moreira, Director, Country Economics Department, African Development Bank
Robert Patalano, Head of Division, Financial Markets
Nagla Bahr, Managing Director, Credit Guarantee Company, Egypt
Kwame Sarpong Barnieh, Partner, KPMG
Enrique de Villamore, Director, MedWaves