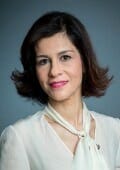 Sahar Mechri Kharrat
Sahar Mechri Kharrat holds a PhD in Economics from Paris 1 Sorbonne University. She teaches microeconomics of uncertainty and macroeconomics at IHEC Carthage. She is interested in the issues of international trade and the role that governance can play in developing countries.
In addition, Sahar Mechri Kharrat is the executive director of the magazine "le Manager", a monthly business manager of the leading media group, "Promedia". She runs annual survey on employability of tunisian universities. She is mainly committed to the issue of women's empowerment and leads the Women Entrepreneuer annual Awards.