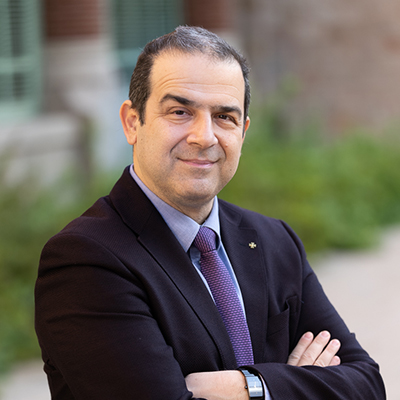 Intelligence & Communication Officer
George Christopoulos specialises in intelligence & communications strategy. He has over 20 years of experience as a geostrategic intelligence analyst, and communications & marketing manager, in various companies and organizations. He currently serves as Intelligence & Communication Officer at the Euro-Mediterranean Economists Association (EMEA), a Barcelona based regional think tank, supported by 35 Universities & Research Institutions from 17 countries. He is responsible for intelligence and reporting of important socio-economic developments, dissemination of deliverables and social media communication.
He also holds the position of Marketing Director of Apogee Information Systems, an IT company specializing in e-learning, web applications and content management systems.
George also serves as a member at the Board of Directors of the Italian-Hellenic Chamber of Commerce of Athens, elected for the period 2022 – 2026. The Italian-Hellenic Chamber of Commerce of Athens is the 2nd largest bilateral Chamber of Commerce in Greece.
On February 2022 George received the Gold Cross of Sabbas the Sanctified, of the Greek Orthodox Patriarchate of Alexandria and All Africa.
Previous to that, George worked as a senior consultant in geostrategic intelligence, communication, and crisis management. He was responsible for threat-monitoring, corporate intelligence, competition monitoring, political trends and actors monitor, general communications and positioning strategy for large corporations and organizations. He has participated to EU IT projects such as the Icarus AI enhanced e-learning, the OpenTEA e-learning platform, the European Observatory for Sustainable Agriculture – OPERA and WP7 NOMAD – Policy Formulation and Validation through non-moderated crowdsourcing. He has also worked in the energy sector, specializing in business intelligence and marketing of renewable energy projects, and as Marketing Manager in the IT sector, specializing in Document and Knowledge Management. George studied Business Administration – Marketing at the University of Bath.