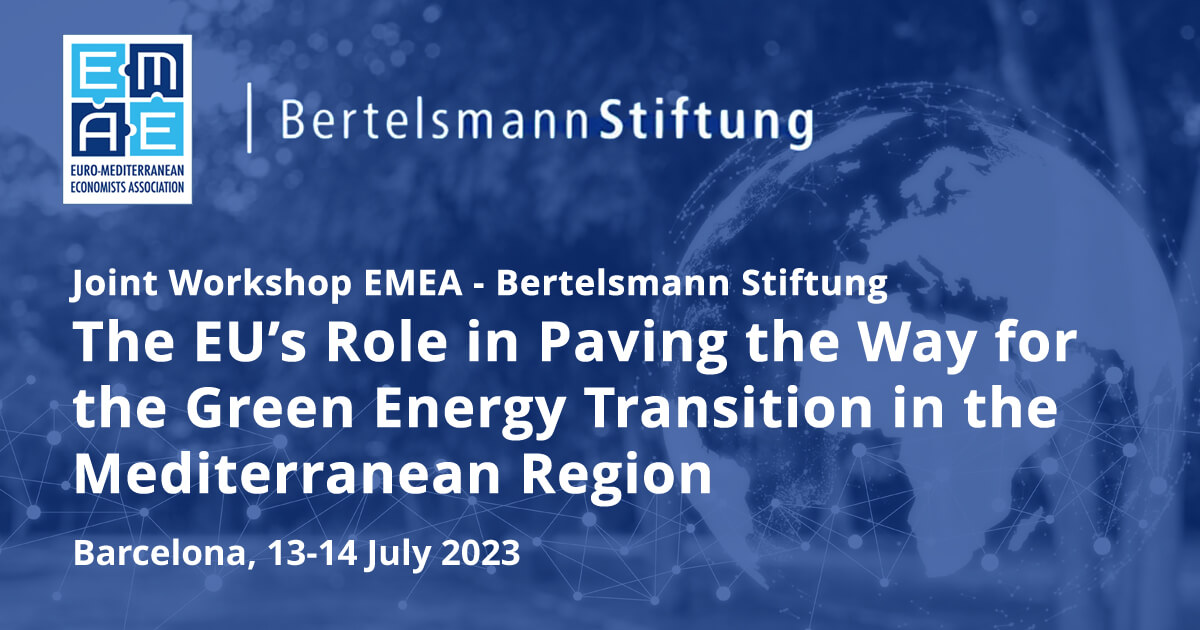 On the 14th July 2023, EMEA partners with the European Programme Bertelsmann Stiftung in to host and co-organise the workshop "The EU's Role in Paving the Way for the Green Energy Transition in the Mediterranean Region". The Bertelsmann is an independent and non-profit think tank based in Germany. Its project "A Sovereign Europe" examines how the EU can preserve and strengthen its capacity to act by strategically managing its interdependencies – building on new partnerships with its neighbours in the East and South.
This year marks the 15th Anniversary of the Union for the Mediterranean, and efforts made to strengthen the dialogue amongst Euro-Mediterranean countries and to revamp the Barcelona Process. However, recent years have posed several socio-economic crises, exacerbating the vulnerabilities of the region. These vulnerabilities have been dramatically exacerbated by the COVID-19 pandemic and, most recently, the Russian war against Ukraine, while the impact of climate change around the Mediterranean every year is more evident and worrisome.
Following the Russian war in Ukraine, the latter item of energy transition has become a key topic in the EU and its Southern Neighbourhood, due to heightening price volatility and energy insecurity. With the REPowerEU communication, the EU provides a blueprint to stop imports of fossil energy from Russia completely, well before 2030. This blueprint is facilitated via several investment mechanisms managed together with the European Investment Bank (EIB) and the European Bank for Reconstruction and Development (EBRD), as well as by pooling demand via the EU Energy Platform.
This workshop aims to better understand the new financial mechanism and partnerships for energy transition promotion in the Mediterranean started by the EU in recent years. With experts from EU and North African institutions as well as think tanks, this workshop will highlight the opportunities and challenges for the region to move towards a green energy transition, highlighting best practices and lessons learnt.
This workshop will operate under the Chatham House Rule.
Barcelona, July 14, 2023, Sant Pau Recinte Modernista, EMEA HQs
This workshop will operate under the Chatham House Rule.