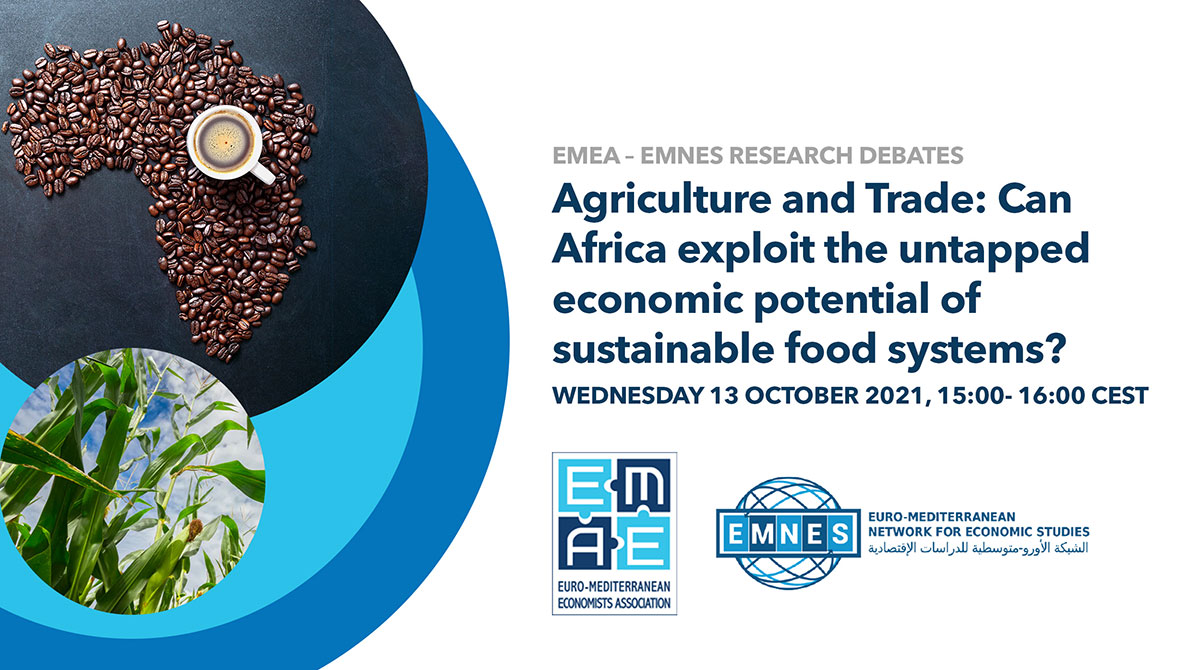 The Euro-Mediterranean Economists Association (EMEA) is proud to announce a new research debate series in collaboration with the Euro-Mediterranean Network for Economic Studies (EMNES). The series will present new studies and topics of research by EMEA, EMNES researchers and partners for discussion and debate.
The first webinar in the series "Agriculture and Trade: Can Africa exploit the untapped economic potential of sustainable food systems?" will take on Wednesday 13 October 2021 from 15:00 to 16:00 CET on Zoom.
The webinar will present the results of the fourth Africa Agricultural Trade Monitor (AATM), the annual flagship publication of the International Food Policy Research Institute (IFPRI) and AKADEMIYA2063. The AATM provides an overview of trade in agriculture in Africa, including analysis of short- and long-term trends, and drivers behind Africa's global trade, intra-African trade, and trade within Africa's regional economic communities (RECs).
Every year the report focuses on a specific region in Africa: for 2021, the focus is Northern Africa, with particular attention on the Arab Maghreb Union (AMU) in Chapter Six.
In this EMEA – EMNES webinar, researchers and experts will discuss whether the African trade and agriculture sectors can face challenges, seize opportunities, and pave the way towards sustainability and resilience.
AGENDA
Welcome: Rym Ayadi, President, Euro-Mediterranean Economists Association (EMEA), Director, Euro-Mediterranean Network for Economic Studies (EMNES) and Professor The Bayes Business School (Former CASS)
Moderator: Sara Ronco, Researcher at EMEA
Panellist(s):     
Chahir Zaki, Associate Professor of Economics at the Faculty of Economics and Political Science, Cairo University and EMNES Director for Egypt
Leila Baghdadi, full Professor of Economics, ESSECT, University of Tunis, Member of DEFI and Expert Member of EMEA
Discussant (s):
Giorgia Giovannetti, Professor of Economics at the University of Florence, visiting Professor at the European University Institute, Part time professor at New York University, Study abroad programme and member of the "Consiglio di Reggenza" of the Bank of Italy, Florence and EMNES Associate Member
Cynthia Echave, Project coordinator and senior researcher at EMEA