On 14 November 2022 the President of EMEA, Prof. Rym Ayadi, met with H.E Fathallah Sijilmassi, Director General of the African Union Commission at COP27, who underlined that "the African Union stands on the side of the Euro-Mediterranean Economists Association."
Prof. Ayadi also met with Prof. Chukwumerije Okereke, Professor in Environment and Development at the University of Reading and member of the EMEA Advisory Board.
Also on 14th November, Dr Cynthia Echave participated in the event Propelling SMEs and businesses into a green future led by ENICBC Med Programme in the Mediterranean Pavilion.
The event discussed solutions and projects in the region that promote the adoption of environmental practices, green business models, and circular economy principles to foster an economic growth that does not jeopardise our ecosystems and natural resources. Dr Echave brought her expertise showcasing the INVESTMED project which supports new, sustainable business opportunities for young people and women and discussing capitalization of the projects results to ensure wide-reaching and lasting impact. Learn more about the INVESTMED project here.
You can catch up on the event here: https://www.youtube.com/watch?v=QED9SXCpL3U
On Tuesday 15th November, Prof. Rym Ayadi formed part of the panel on The importance of R&I in the fight against climate change in the Mediterranean, an event held by PRIMA in the Mediterranean Pavilion.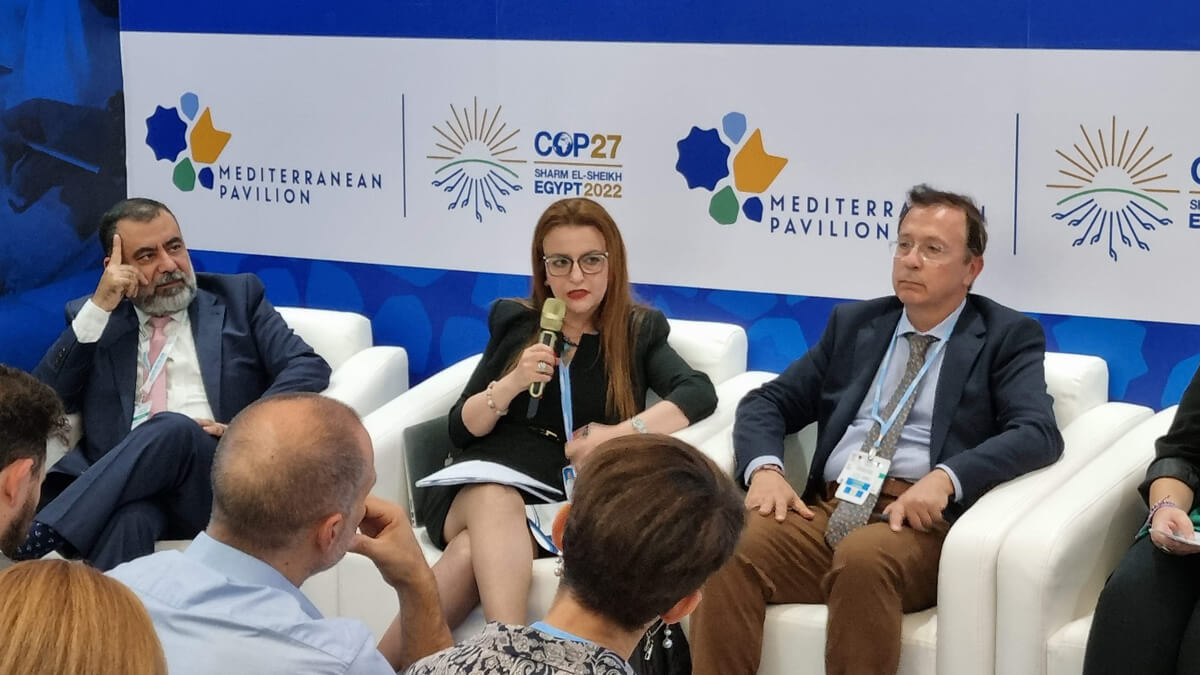 Prof Ayadi. presented the TRIS model and dashboard which shed light on responsible research and innovation in the Mediterranean region. She explained that the key problem is a lack of data meaning good policy and progression is difficult to make. You can learn more about the TRIS model and use the interactive map here.
You can catch up on the full event here: https://www.youtube.com/watch?v=-30dWNyiPrE
Gallery: