Johannesburg, 1st August, 2023: The monthly series on Brain Health Perspectives, cohosted by the African Brain Health Network and The University of Witwatersrand, centres Pan-African perspectives in the global vision to support better brain health. Global experts from various disciplines explore and address challenges related to brain health.
The launch event was titled 'Understanding Brain Health & Strategies To Support Brain Health' see link here: https://www.quicket.co.za/events/227865-understanding-brain-health-strategies-to-support-brain-health/#/
Dr Harris Eyre, Lead of the Brain Capital Alliance, Fellow in Brain Health with Rice University's Baker Institute for Public Policy, spoke on the topic of brain health policy entrepreneurship.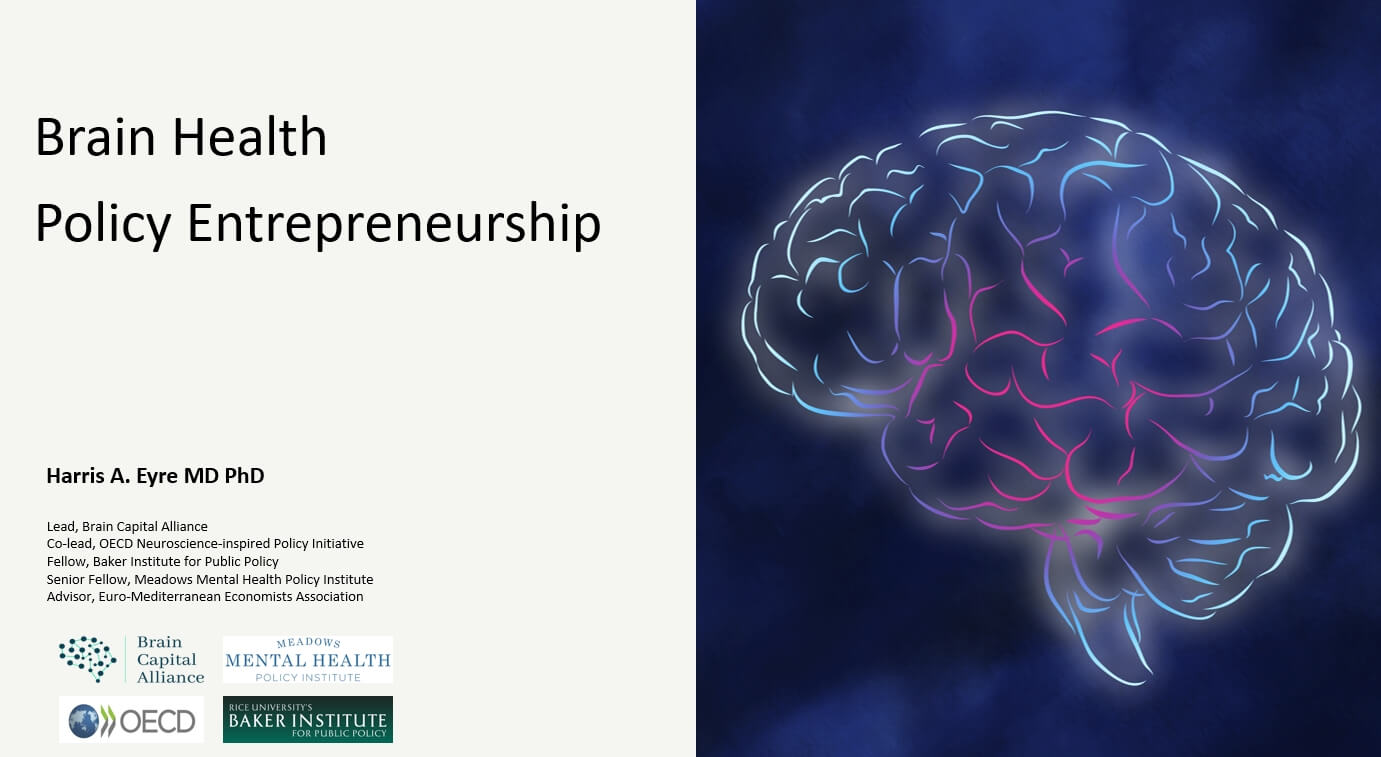 Dr Eyre discussed a range of projects EMEA has been engaged in over the past years such as the OECD Neuroscience-inspired Policy Initiative, the Brain Capital Alliance, and recent Baker Institute reports such as:
Brain Capital is Key to a Sustainable Future
Good Food is Vital for Brain Health So We Must Change the Food Industry
Event details:
Understanding Brain Health & Strategies to Support Brain Health
A healthy brain is essential for optimal cognitive, emotional and behavioural function. Brain Health includes health promotion, strategies to reduce the risk of illness and improve management, the development of brain skills and brain capital. It is an exciting field with the potential to help many people. This discussion will focus on brain health and different approaches to support better brain health.
Speakers:
Welcome: Prof. Andre Mochan
Chair: Kirti Ranchod
Panel Discussion
Prof. Alfred Njamnshi : From Research & Resilience to Practice and Policy
Funmi Akindejoye: Urban design and Mental Health
Harris Eyre: Brain Health Policy Entrepreneurship
Speaker Details:
Prof. Andre Mochan is an Associate Professor in the Division of Neurology, the Clinical Head of Neurology at Chris Hani Baragwanath Hospital since 2009 and the Academic Head of Neurology in the Department of Neurosciences in the School of Clinical Medicine. He is the current Secretary of the College of Neurology and recent office bearer of the Neurology Association of South Africa (NASA).
In 2014 he established a dedicated multidisciplinary Motor Neuron Disease / Amyotrophic Lateral Sclerosis (MND/ALS) Clinic at Chris Hani Baragwanath Hospital. Through the MND/ALS clinic he participates in the drive for genomic research on African ALS patients and is Co-Principal Investigator of the newly launched ALS-Africa NET study employing cutting edge WGS techniques, performed locally, to characterise uncharted genes in ALS. He also is the initiator and Principal Investigator of the South African Neurology COVID-19 database.
Prof. Alfred K. Njamnshi, M.D., M.A., DMS, FMH, is a Swiss-Board certified senior consultant neurologist and clinical neurophysiologist, professor of neurology & neuroscience in The University of Yaounde I, and he heads the Neurology Department of the Central Hospital Yaoundé (Teaching Hospital), Cameroon. He is the founder and Executive Director of the Brain Research Africa Initiative (BRAIN). BRAIN is a development partner of the African Union Commission and member organisation of the International Brain Initiative (IBI).
Funmi Akindejoye from Nigeria is an Environmental (Public) Health researcher and a visual artist. She is a senior Atlantic Fellow for Equity in Brain health. Her work focuses on environmental risk factors for brain health and the use of nature to improve psychological outcomes. In 2022 she was nominated for the global Metrodora awards as a female Mental health leader in medicine and science. Funmi's recent body of work focuses on ''Case studies on the influence of urban design on mental health''. She has successfully conducted such case studies in Lagos Nigeria, Lapua Finland, and currently Monrovia Liberia. Where she combines workshops and art exhibitions to showcase the results of these studies. Presently she is investigating the impact of therapeutic gardens among persons with dementia and their caregivers in Africa. She has over a decade of professional experience as a visual artist and has participated in several art exhibitions locally and internationally. Funmi uses art as a tool for social change, public health therapy, and education.
Harris Eyre MD PhD is a brain capital builder who believes that investing in building brain capital is fundamental to meet modern societal challenges and drive innovation. He leads the development of the brain capital field and seeks to place it at the center of economics, policy, finance, and technology. In his career, he has operated as a physician, scientist, entrepreneur, executive services provider, author, new economic and finance thinker, and neuroscience diplomat. He is a fellow in brain health at Rice University's Baker Institute for Public Policy and an instructor with the Global Brain Health Institute. He is an alumnus of Forbes 30 Under 30 and the Fulbright Scholar program.Harris is from the Great Barrier Reef region of Australia and is now based in the USA.
Kirti Ranchod is a neurologist from South Africa, Global Atlantic Fellow for Equity in Brain Health, co-founder and chair of the African Brain Health Network and has served on the board of Alzheimer's South Africa. She has extensive clinical experience in medicine and neurology. Dr. Ranchod founded Memorability to make brain health tools accessible, practical and effective including online and in person courses, talks and workshops. She runs a series of talks on "Investing in Our Cultural Capital for Better Brain Health' at the Origins Centre, University of Witwatersrand. She completed a project with REMI East Africa in Uganda to support healthcare workers with practical mental health tools. Interests include the role of traditional practices and Indigenous Knowledge Systems in promoting health, the neuroscience of art, and understanding the different perceptions of memory.
This talks form part of a monthly series: Brain Health Perspectives.
This monthly series on Brain Health Perspectives centres Pan-African perspectives in the global vision to support better brain health. Global experts from various disciplines will explore and address challenges related to brain health.
5 September: Life Course Approaches to support Brain Health
3 October: Challenges, opportunities and priorities- Economic Perspectives
6 November: Challenges, opportunities and priorities- Neurological Illness
4 December: Challenges, opportunities and priorities- Lessons from HIV management/ Public health programs