Beirut, Lebanon, September 14th, 2023: Dr Eyre, Fellow at Rice University's Baker Institute for Public Policy and Senior Fellow at the Meadows Mental Health Policy Institute, presented Grand Rounds at AUB's Department of Psychiatry.
Dr Eyre provided exclusive access to AUB's faculty from his forthcoming major report with The Baker Institute titled '7 Steps for Igniting a Brain Capital Industrial Strategy'. This report will be formally launched next week at the Science Summit of the 78th United Nations General Assembly.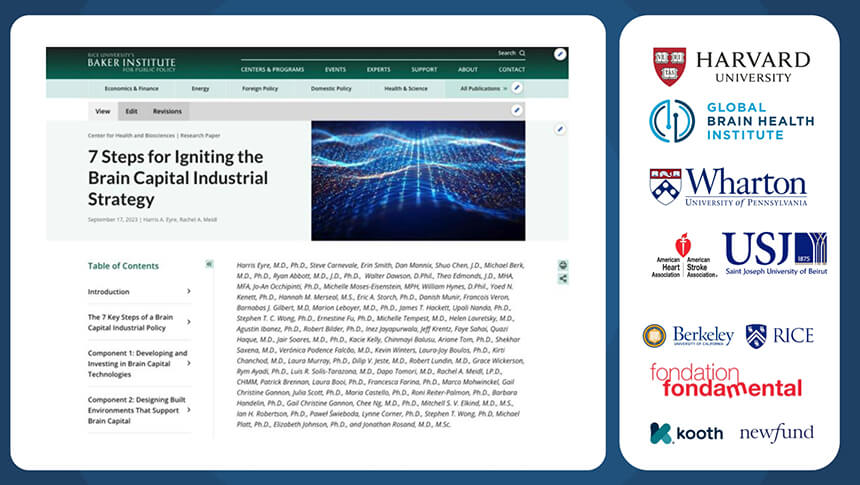 Eyre outlined how brain health is a critical aspect of human well-being, affecting cognitive abilities, socioemotional stability, and overall quality of life. However, the growing prevalence of brain disorders is taking a steep economic toll. Mental health disorders alone are estimated to cost the global economy $5 trillion per year, and this is projected to rise to $16 trillion by 2030.
The economic burden of brain and mental health-related disorders — along with the need to fuel creativity and innovation to address global productivity slow-downs — has prompted the need for a brain science-inspired industrial strategy that will build global brain capital (i.e., the cognitive, emotional, and social brain resources of its citizens).
The "brain capital industrial strategy" is as a public-private strategy that focuses on building economic resilience through an emphasis on cultivating citizens' brain health and brain skills to contribute to an innovative and thriving economy.