The flagship conference on Brain Capital Building at the United Nations General Assembly, which took place on 19 September 2023, was the largest and most significant event organized globally on the emerging concept of brain capital, which puts premium on brain skills and brain health.
Focused specifically on how Brain Deals Can Harness AI and Drive Sustainable Development Goal Implementation by 2030, the event was part of the UN Science Summit, a major platform for discussion on the scientific input to the achievement of the global objectives.
It was organized jointly by the Brain Capital Alliance, Rice University's Baker Institute for Public Policy and HKS, with the support of the Mental Health Services Oversight and Accountability Commission of California as well as Kooth.
The conference opened with an introduction on Brain Capital by EMEA Advisor Paweł Świeboda, Member of the Steering Committee of the Brain Capital Alliance, and a welcome address by Jay Inslee, Governor of Washington, who highlighted the need to break the opioid cycle and mental health crisis through science.
Following the welcome addresses, Harris Eyre MD PhD, Lead, Brain Capital Alliance, Fellow, Rice University's Baker Institute for Public Policy, EMEA Advisor, and Senior Fellow, Meadows Mental Health Policy Institute, launched the Brain Capital Industrial Innovation Strategy.
Prof. Rym Ayadi, President and Founder of the Euro-Mediterranean Economists Association, CEPS Senior Advisor, and co-founder of the Brain Capital Alliance, delivered the keynote speech launched and launched the brain capital dashboard, which has been developed by the OECD NIPI, Brain Capital Alliance, the EMEA team, and the Global Brain Capital Dashboard Working Group since 2021.
The need for transformational policy approaches in all areas covered by the concept of brain capital was stressed throughout the day. In the context of the current geo-economic, demographic, or environmental challenges, our societal objectives cannot not be achieved on the basis of business-as-usual in economic, social or health policies.
Brain capital provides unique value because of its integrative potential, bringing together disparate objectives and initiatives into an integrated platform that inspires change through its emphasis on matters of central importance to individuals, such as their cognitive and emotional potential, and brain health.
Link to event videos
Link to the global brain capital dashboard paper published by Brookings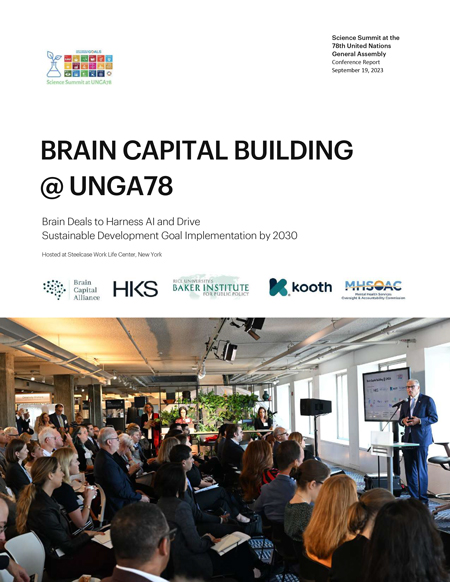 Co-authors/Contributors
RESEARCH FIELDS
PROJECTS
TYPE OF PUBLICATION