This book is a collection of papers which discuss the impact of the war in Ukraine on Europe spanning a wide range of areas from geopolitical scenarios to economic prospects, sustainable energy to logistics, and the Eastern European dimension to EU-Africa relations. The authors of this book believe that we are living an unprecedented 'European moment', and that this moment can and should be seized upon to respond to present and future shocks. Both the papers collected in this volume and the manifesto presented point out the most promising directions of the leap forward that is required: more assertive and unified policies towards Eastern Europe, the Euro-Mediterranean region and Africa; a federalist drive towards more effective and fairer economic and social governance; the fight against polarisation and the strengthening of liberal democracy.
Authors:
Rym Ayadi
is the founder and president of the Euro-Mediterranean Economists Association (EMEA), an independent think and do thank based in Barcelona since 2012, a professor at the Bayes Business School, City University of London, a senior advisor at the Centre for European Policies Studies (CEPS) and Chair of the European Banking Authority's Banking Stakeholders Group of the European Banking Authority.
Paolo Garonna
is professor of political economy at Luiss University of Rome. He has worked for the last 15 years in the financial sector, and before that at the Italian Statistical Office, Confindustria, the OECD and the United Nations.
Goran Svilanović
is a politician and diplomat from Serbia. He served as Minister of Foreign Affairs (2000-2004) and thenafterwards with various international and regional organisations (Stability Pact for SEE, OSCE and RCC). Essays were also contributed by P.C. Padoan (Unicredit), T. Coratella (ECFR), A. Pivovarsky and K. Galvin (EBRD), J.M. Roldan (JMR Spain), B. McWilliams G. Sgaravatti S. Tagliapietra and G. Zachman (Bruegel), M. De Andreis (Intesa S.Paolo), R. Edwards and P. Longo (University of Nebraska) The book is co-published  by the
Euro-Mediterranean Economists Association – EMEA
and the
Centre for European Policy Studies - CEPS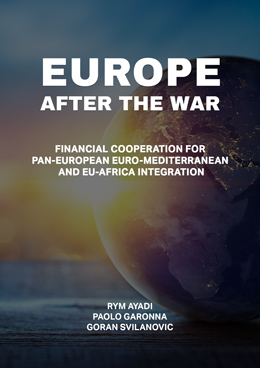 Co-authors/Contributors
RESEARCH FIELDS
PROJECTS
TYPE OF PUBLICATION