Amidst the disruptive circumstances resulting from the COVID-19 global pandemic, this new study provides an overview of the socio-economic impact of COVID-19 in the Arab Mediterranean countries (AMCs), zooming in on education and training systems and policies, analysing their resilience in managing and resisting the crisis and how lessons learned can be embedded in recovery plans and long-term reform processes. It relies on data and information available as of January 2021.
The study is led and co-authored by Prof. Rym Ayadi, President of EMEA and Director of EMNES with the support of Sara Ronco, Researcher at EMEA. Contributions on the education and training systems of the AMCs are provided by EMEA and EMNES researchers, in particular Marwa Biltagy for Egypt, Mais Shaban for Jordan, Sandra Challita for Lebanon and Palestine and Yeganeh Forouheshfar for Algeria and Morocco. Acknowledgement to EMEA copy-editor Rob Atree for proof-reading and IT and AI officer Nektar Baziotis for design and formatting. Valuable comments by the European Training Foundation (ETF) team during various rounds of revision, in particular Abdelaziz Jaouani, Sabina Nari, Francesca Rosso, Elena Carrero Perez and Stefano Lasagni are acknowledged. The study is prepared in the context of a project funded by the ETF. The content complements ETF expertise in this area. The study made use of the
EMEA COVID-19 Tracker
. The Tracker  automatically collects daily data from international institutions (e.g. WHO, OECD, IMF..) on the COVID-19 pandemic via a built-in algorithm; and the
EMEA COVID-19 Monitor
. The Monitor provides weekly assessments of the COVID-19 evolutions and EMEA analysis on the topic. The
Euro-Mediterranean Economists Association (EMEA)
is a regional thinktank that serves as a leading independent and innovative policy research institution. The
European Training Foundation (ETF)
is the EU agency supporting countries surrounding the European Union to reform their education, training and labour market systems.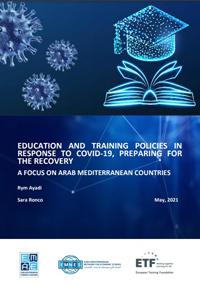 Co-authors/Contributors
RESEARCH FIELDS
TYPE OF PUBLICATION