2 Jul 2021
CEPS-EMEA webinar report: "EU-Med-Africa relations: a new start?"
Organised by CEPS, one of Europe's most independent and reputable think-tanks, Ideas Lab is the most high-profile annual event on policies of the European Union. The Euro-Mediterranean Economists Association – EMEA is a partner of CEPS and one of the sponsors of IdeasLab 2021 which took place online from 31 May to 04 June 2021.
EMEA co-organised the session "EU-Med-Africa relations: a new start?" on 04 June 2021. The session was moderated by Prof. Rym Ayadi, EMEA Founder and President, and Senior Advisor, CEPS, with the participation of Sandra Kramer Director – EU-AU relations, West and East Africa, European Commission, Maria Shaw-Barragan Director, Global Partners Department Operations in Africa, Caribbean, Pacific, Asia and Latin American, European Investment Bank, and Christian Kopf, Managing Director, Union Investment Privatfonds GmbH.
Closing the discussion, Prof. Rym Ayadi highlighted that "Policy "first", coherence, co-design and coordination are pillars for a new start of EU-Africa partnership".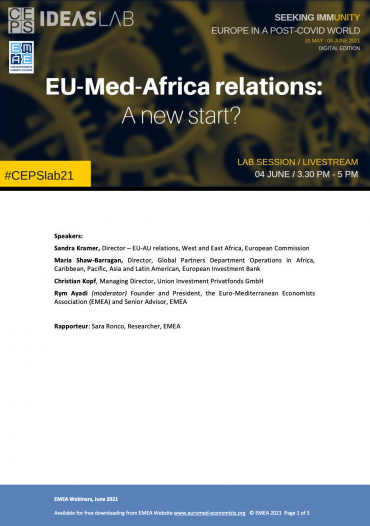 CEPS-EMEA webinar report: "EU-Med-Africa relations: a new start?"