EMEA - EMANES - KAS PolDiMed Study 2022
The COVID-19 outbreak hit an unprepared world in February 2020. The pandemic shined a spotlight on the deficiencies of healthcare systems. In response, governments initiated a variety of containment measures, thereby affecting the lives and livelihoods of millions of citizens.
The objectives of this study are to analyse the evolution of the pandemic during 2021 and the adopted policy measures, investigate the resilience of the healthcare sectors in Algeria, Egypt, Jordan, Lebanon, Morocco, Palestine, and Tunisia (referred to as the target countries) and the responses to the COVID-19 pandemic, and investigate the socioeconomic consequences of this shock. This study was authored by EMEA President Prof. Rym Ayadi and EMEA researchers Dr. Yeganeh Forouheshfar and Sara Ronco and it was published by the Regional Program Political Dialogue South Mediterranean of the Konrad-Adenauer-Stiftung (KAS PolDiMed).  The study was conducted by KAS PolDiMed in collaboration with the Euro-Mediterranean Economists Association (EMEA).
Event video:https://www.youtube.com/watch?v=--CE-6hXAbA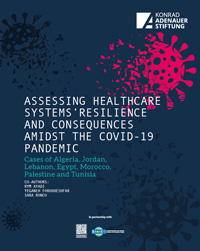 Co-authors/Contributors
RESEARCH FIELDS
PROJECTS
TYPE OF PUBLICATION