Barcelona, Spain, November 22, 2022: Achieving sustainable endpoints requires systems thinking, mass human behavior change and innovation. These are attainable by fostering a clear scientific and economic evidence base, coordinated leadership, motivation and the right mindset and messaging. The concept of "green brain capital" places a central emphasis on the brain to deliver a healthy and sustainable environment and, vice versa, on a green environment to promote and safeguard brain health. The Euro-Mediterranean Economists Association (EMEA) and the Brain Capital Alliance (BCA) are collaborating to refine and advance green brain capital. Harris Eyre MD PhD, Lead of the Brain Capital Alliance and Advisor to EMEA, and Rym Ayadi PhD, Founder and President of EMEA and Co-Founder of the Brain Capital Alliance, presented this work at COP 27 in Sharm El Sheikh, Egypt, on a number of occasions.
Sustainability issues are a major contemporary global concern for our century and for our generation, predicated on a complex set of inseparable and interconnected environmental, societal and economic problems. Strategies to date have been slow to effect change towards environmentally constructive, science-based sustainable or "green" approaches and, for the most part, have proven inadequate. This, in part, stems from their failure to account for individual and collective human psychology, particularly through understanding the drivers and motivations underpinning human behavior.
Eyre noted, "The green brain capital model corresponds to a sustainability-focused type of brain capital. The world is increasingly relying on brain capital, where a premium is put on brain skills and brain health (e.g. individual's cognitive, emotional, and social brain resources). Green brain capital is underpinned by brain health, environmental determinants of brain health, green skills, creativity infrastructure, ecological intelligence and digital literacy. Green brain capital intends to be politically pragmatic, economically aware and lifespan-focused. Growing green brain capital will require transformations across hierarchical levels in social-ecological systems, ranging from individuals to populations to entire societies. This requires an in-all-policies approach." Dr Eyre is also a Fellow with The Baker Institute for Public Policy at Rice University and at the Meadows Mental Health Policy Institute.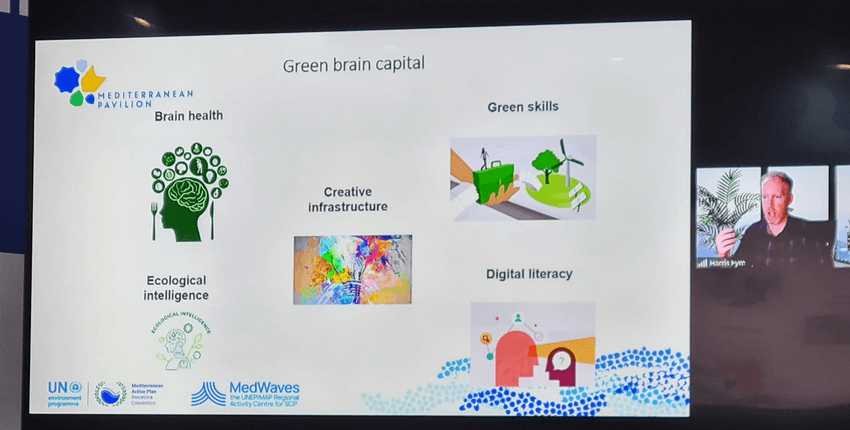 The COP 27 events where green brain capital was introduced and discussed were:
Salvador Simo Algado PhD, Professor in Mental Health at Universitat de Vic – Universitat Central de Catalunya, Visiting Lecturer at the EU Business School and Advisor to EMEA noted, "The broad framework of green brain capital is very innovative and helpful. We need to also ensure there are real-world projects driving this on the ground. To this end, we are standing up the E-Green Social Design project. This project supports youth living with mental health challenges by an integrated model: educating them about plastic recycling, novel furniture design via 3D printing, then social entrepreneurship via selling their products. It aims to give them therapy, a purpose and skills for the 21st century. It ticks many of the boxes of the green brain capital framework."
Sarah Dunlop PhD, Head of Plastics and Human Health at Minderoo Foundation, noted about this work on green brain capital, "The choice is ours: Continue trashing our brains, and our children's, with chemical pollution and with it the future. Or stop the pollution and secure all life on Earth – including the future of humanity and civilisation." Dunlop was coauthor of the chapter Build back brainer: base policies on brain science, recently published in the OECD book "Systemic Recovery". Further details here: https://euromed-economists.org/brain-capital-alliance-publishes-key-chapter-in-oecd-systemic-recovery-book/
Hon Jay Weatherill AO, Director of Thrive by Five at Minderoo Foundation, noted, "The green brain capital framework is very good. We need creative policies to address climate related challenges and we need creative infrastructure among our citizens to develop new solutions. The building blocks for creativity are laid down in the early years. The so-called traffic control functions like organizing thoughts, building relationships and mood control are all important foundations for later creative success,"
Rym Ayadi PhD noted in conclusion, "We are actively exploring ways of integrating green brain capital into the new EMA Sustainable Transformative Action" or STA. The aim of the STA is to contribute to the implementation of climate adaptation actions in Europe, the Mediterranean and Africa through a transdisciplinary approach based on identification of needs and opportunities, knowledge transferring, and encouraging transformative policies." Further details here https://sta-emea.net/about/
About the Brain Capital Alliance: A public-private-people partnership to optimize the brain, brain health and brain skills in the modern economy. Following on from the success of the OECD Neuroscience-inspired Policy Initiative, a group of diverse stakeholders launched an expanded, multinational and multi-organisational programme. The programme focuses on neuroscience-inspired investment and public policy innovation as the two most powerful levers for change. It brings together radically diverse stakeholders spanning fields from brain science to policy, economics and finance. The Brain Capital Dashboard has been soft-launched with major support from the Euro-Mediterranean Economists Association. The Brain Health Diplomacy Toolkit is also in development and other driver projects will be announced in the coming months. Brain capital has been profiled at the United Nations General Assembly, COP 27 (the United Nations Climate Change Conference) and in major public and private reports from the World Health Organization, the UN Development Programme, Price Waterhouse Coopers and Lundbeck. Learn more here: https://braincapital-platform.net/