The Euro-Mediterranean Economists Association (EMEA) travelled to Marrakech, Morocco for the Union for the Mediterranean (UfM) Ministerial Policy Conference on 17th May 2022, which took place ahead of the 5th UfM Ministerial Meeting on Employment and Labour on 18th May.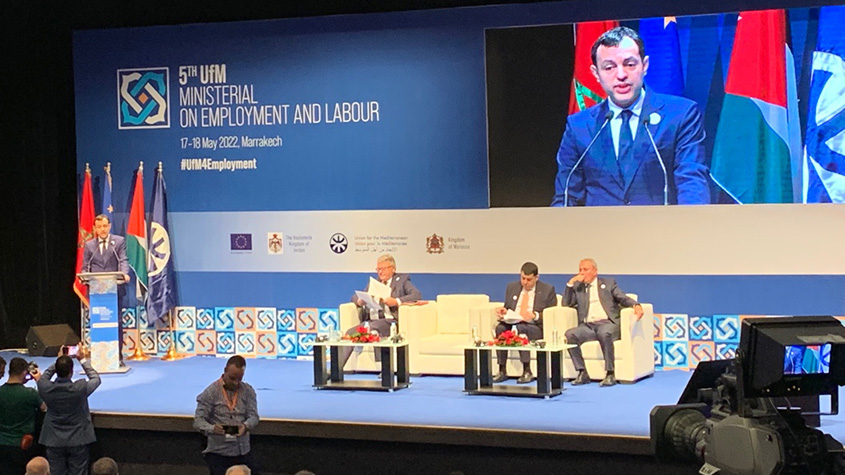 The Conference, organised by the UfM Secretariat and its co-presidency of the European Union (EU) and the Hashemite Kingdom of Jordan, focused on "Employment and employability of the most vulnerable, especially among youth and women." The event featured interventions from senior policymakers and practitioners from across the Euro-Mediterranean region, as well as project beneficiaries and success stories.
The Conference was opened by His Excellency Dr Younes Sekkouri, Minister of Economic Inclusion, Small Enterprises, Employment and Skills of the Kingdom of Morocco, His Excellency Mr Nicolas Schmit, European Commissioner for Jobs and Social Rights, His Excellency Mr Nayef Stetieh, Minister of Labour of the Hashemite Kingdom of Jordan, and His Excellency Mr Nasser Kamel, Secretary General of the Union for the Mediterranean. They stressed the importance of achieving inclusive, green, digital and sustainable growth guided by the Sustainable Development Goals, and the need to see young people and women as part of the solution.
Discussion panels covered an inclusive recovery from the COVID-19 pandemic and the concept of "building back better", women and employment, skills and innovation for a green and digital recovery, and a sustainable recovery with the creation of more decent jobs. Finally, the Team Europe Initiative "Jobs through Trade and Investment" was launched. Ministers reiterated their commitment to promote an economy that works for people through employment and social policies that respond to youth and gender-specific issues, and in the Ministerial Meeting on the 18th, agreed joint actions for a better integration of social and labour markets in the Euro-Mediterranean region.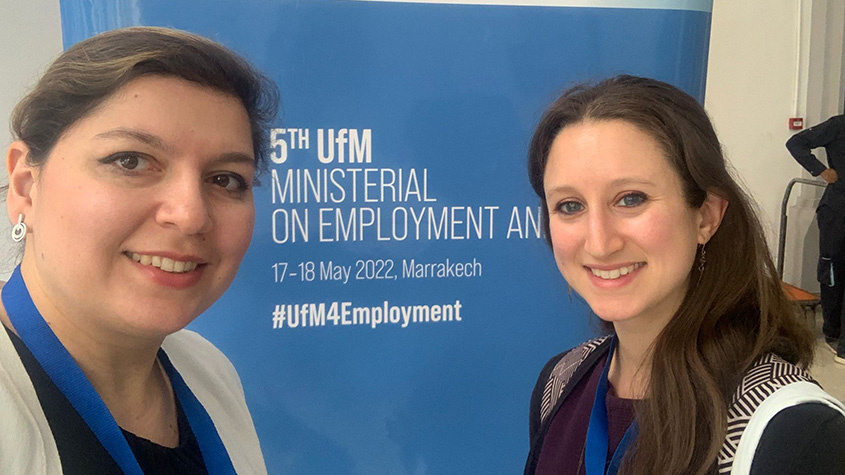 At the conference, EMEA held a booth to present the online data monitoring dashboard, produced by EMEA in collaboration with the European Training Foundation (ETF), as part of the commitments set out in the 4th UfM Ministerial Declaration on Employment and Labour. EMEA's Yeganeh Forouheshfar, Researcher, and Alanna Irving, Assistant Project Officer were present to demonstrate and explain the platform and its functionality.
The dashboard provides dynamic and interactive visualisation of data on employment and labour market statistics in 11 Mediterranean countries, facilitating both country level and cross-country comparison across four key pillars and 10 dimensions.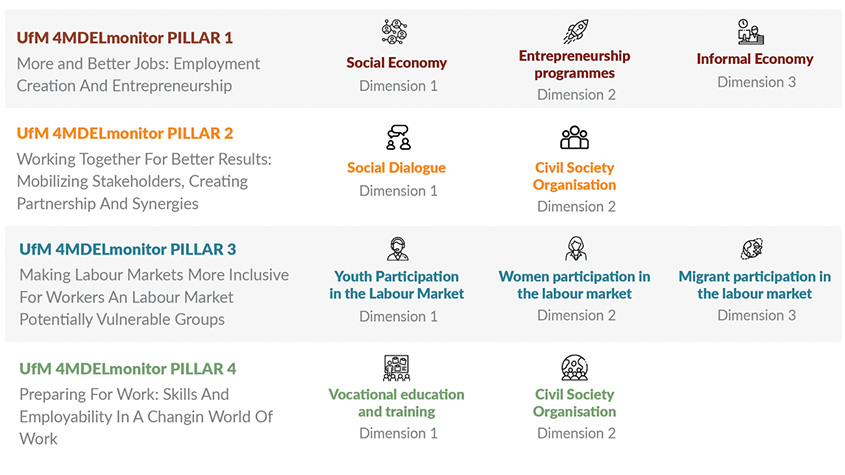 The platform does not aim to analyse policy or country performance, but rather to track policy progress, foster a culture of monitoring and evidence-based policy design, foster collaboration and participation, and guide recommendations for action. Data is provided on a voluntary and flexible basis by participating countries.