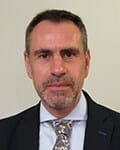 Dr. Jose Vila holds a BSc in Mathematics and a PhD in Economics. He is Scientific Director in the statistical consulting DevStat and associate professor at University of Valencia, where he leads its behavioural-experimental lab, Lineex.
Dr. Vila has more than 20 years experience in the development and application of quantitative methods for evidence-based policy-making and policy M&E, as well as consulting activities for business development in the private sector. His fields of expertise include statistical methods and behavioural-experimental economics.
As an instance of the projects developed by Dr. Vila, he has been the Scientific Director in a four-year framework contract with Eurostat for methodological support and Principal Researcher in a series of contracts with JRC-IPTS devoted to the application of behavioural-experimental methods and quantitative models to optimise European Commission policy-making in online consumer behaviour, cybersecurity and impact measurement of CAP. He has lead research, transference and consulting projects in the Mediterranean Countries, Europe, Latin America, Asia and Africa.
He has also authored many publications on top scientific journal on statistics, management and economics such as Econometrica, Management Decision, Games and Economic Behavior, Journal of Business Research and Journal of Economics.